Wells Fargo Headquarters.
Great list of information and resources for the Wells Fargo Headquarters.
See the Wells Fargo corporate office phone numbers, addresses and contacts.
Learn about the executive team, how to apply for jobs at Wells Fargo, and how to get in touch with their Customer Support team, if you have a complaint.
About Wells Fargo.
Wells Fargo is a provider of banking and financial services and one of the US Big 4 banks. The company was established in 1852 by the founders of American Express. Between the late 1980s and the mid 2000s, Wells Fargo was involved in multiple mergers and acquisitions that eventually turned it into one of the world's largest banks by market capitalization.
Currently, Wells Fargo operates in 35 countries, employs more than 265,000 people, and has more than 70 million customers.
Wells Fargo Corporate Office Contacts.
Use the contact details below to get through Wells Fargo's San Francisco headquarters.
Wells Fargo Headquarters Phone Number.
+1-415-396-7152
The Corporate Office Switchboard hours are: Monday through Friday, from 9 a.m. to 5 p.m. (Pacific Time).
Wells Fargo Headquarters Fax Number.
+1-415-975-7745
Wells Fargo Headquarters Address.
Wells Fargo Corporate Office
420 Montgomery St.
San Francisco, CA, 94104.
USA
Other Wells Fargo Mailing Addresses.
Auto Finance
Wells Fargo Auto Finance
P.O. Box 29704
Phoenix, AZ 85038-9704
Checking and Savings Accounts
Wells Fargo Bank
P. O. Box 6995
Portland, OR 97228-6995
Consumer Credit Card Services
Wells Fargo Card Services
P.O. Box 51193
Los Angeles, CA 90051-5493
Home Equity
Wells Fargo Home Equity
P.O. Box 10335
Des Moines, IA 50306-0335
Home Mortgage
Wells Fargo Home Mortgage
P.O. Box 10335
Des Moines, IA 50306-0335
Online Customer Service
Wells Fargo Customer Service
P.O. Box 560948
Charlotte, NC 28256
Student Loans
Wells Fargo Education Financial Services
P.O. Box 5185
Sioux Falls, SD 57117-5185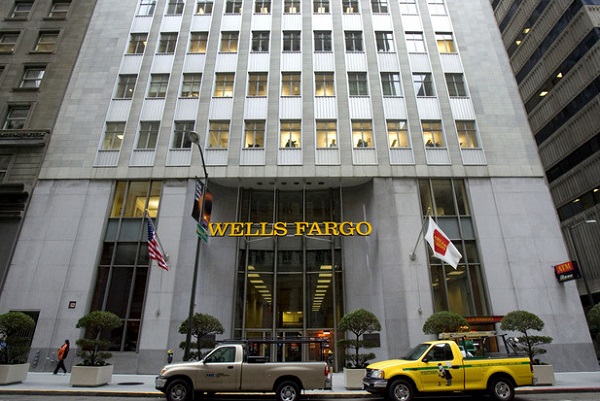 Wells Fargo Executive Team.
We have listed the complete list of key leaders at Wells Fargo below.
Timothy J. Sloan, President and CEO
David M. Carroll, Senior Executive Vice President (Wealth & Investment Management)
Franklin R. Codel, Senior Executive Vice President (Consumer Lending)
Hope A. Hardison, Senior Executive Vice President & Chief Administrative Officer
Richard D. Levy, Executive Vice President & Controller
Michael J. Loughlin, Senior Executive Vice President & Chief Risk Officer
Mary T. Mack, Senior Executive Vice President (Community Banking)
Avid Modjtabai, Senior Executive Vice President (Payments, Virtual Solutions & Innovation)
Perry G. Pelos, Senior Executive Vice President (Wholesale Banking)
John R. Shrewsberry, Senior Executive Vice President & Chief Financial Officer
James M. Strother, Senior Executive Vice President & General Counsel
Wells Fargo Board of Directors:
Timothy J. Sloan
John D. Baker II
Elaine L. Chao
John S. Chen
Lloyd H. Dean
Elizabeth A. Duke
Susan E. Engel
Enrique Hernandez Jr.
Donald M. James
Cynthia H. Milligan
Federico F. Peña
James H. Quigley
Stephen W. Sanger
Susan G. Swenson
Suzanne M. Vautrinot
Wells Fargo Careers and Jobs.
Wells Fargo has several dedicated career pages available for prospective job seekers. Click here to learn about the company's hiring process, view the vacancies available and find information about the benefits of working for Wells Fargo.
For information on the career opportunities available to military veterans, visit this page. A LinkedIn jobs page is available here.
How to complain to Wells Fargo.
Complaints about Wells Fargo financial products or services should be directed to the Customer Service team, which can be reached by calling +1-800-869-3557.
To resolve problems with mobile or online banking, you can call +1-800-956-4442. These two phone lines are open 24/7. If you want to speak to a banker then calls can also be made to +1-844-931-2273 (1-844-WF1-CARE) from 8 a.m. to 10 p.m. on weekdays and from 8 a.m. to 9 p.m. on Saturdays.
To contact Wells Fargo customer service by email, if you are an existing Wells Fargo Online® customer, then you need to log in first. You can log in here.
Live Chat is also a popular option for feedback, questions and complaints. Open the Wells Fargo Live Chat page here, enter your details and your question nad press 'Send'.
Lastly, we should mention that Wells Fargo has a very active customer service service on Twitter. Tweet your grievance or issue at the handle @ask_WellsFargo and you will get a reply within an hour or two.
Other Wells Fargo Resources.
Scroll down for information of how to reach different Wells Fargo departments,  where to find answers to common questions, and the bank's social media links.
Please share your experiences with, or complaints about, the Wells Fargo Headquarters, in the comment section.
Please rate your experiences with the company listed on this page. You can rate your experience with 1 to 5 stars, with 1 star being Very Poor and 5 stars being Excellent.
Company complaints, reviews, issues or praise should be submitted in the comment section below each page. Comments are moderated twice a week. We encourage sharing complaints, comments and feedback, but please bear in mind that we are not affiliated with the listed companies. The feedback section is intended to help other customers.
Have a great day and thank you for visiting!